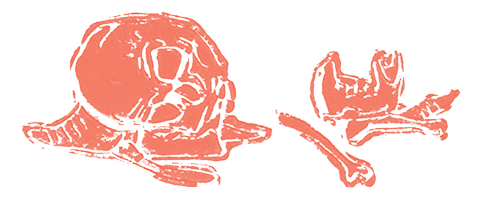 OSSUARY
Content warning: bones, violence
Picking the bones of OSR clean and crushing them underfoot
OSSUARY is a minimal, one-page dungeon delving system. It's been designed with speed and play-by-post in mind — the rules are straightforward, the character sheets are simple, the rolls are handled by the Bone Collector (aka GM).
In this game a Bone Collector guides a group of players through a game of traps, terror and treasure, where creative problem-solving is key.
Features at a glance:
3 randomly generated stats — Spine (strength), Femur (dexterity) and Skull (willpower) — represented by die sizes (d4, d6, d8, d10, and d12)
core stats double up as HP
pseudo-lifepath character generation and equipment
emphasis on lvl 0 funnel play
freeform classes and abilities beyond lvl 0
micro adventure hidden within the rules
Example character sheet:

Vagrant 
Spine: d8
Femur: d4
Skull: d10 
...with...
an empty promise 
...who wants to...
eliminate a nemesis 
Equipment:
Stick [0]
Goose
Vial of weak poison

24 additional character options are available in the A Heap of Bones supplement.
Level 0 Character Generator:
Here's a handy little HTML tool for making funnel characters really easily. You can use it on your phone or desktop (no download required).
Make your own content:
adventures
settings
classes
abilities
equipment
additional rules
…whatever you want
Please share with me so I can admire it. If there's enough demand I'll make a jam!
Play-by-post advice (for Bone Collectors):
On a Discord server create a category for your lvl 0 campaign
Create a channel for each player, generate 4 characters per player and post them in the respective channels
Create a channel with ground rules and be explicit about content warnings, safety tools and expectations around how frequently everyone should post
Create a private channel with just you and a dice bot
Invite your players to the server/category and ensure they have notifications switched on
Amend characters' stats/statuses/equipment in the players' channels as required (use strikethrough formatting for elements that might return back to their original state/value)
Have fun!
Submitted as part of:
Update: OSSUARY can be found in print in the published Tiny Tome anthology by Long Tail Games.
Download
Click download now to get access to the following files:
Alfred Valley - OSSUARY 1.0 - A5 pages.pdf
2 MB
Alfred Valley - OSSUARY 1.0 - A5 spread.pdf
2 MB
Alfred Valley - OSSUARY 1.0.txt
5 kB